Our Farms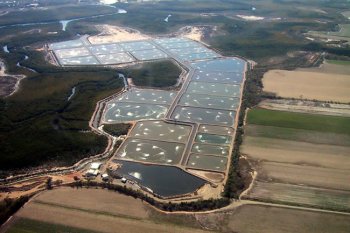 Gold Coast Marine Aquaculture has two prawn farms, one farm in South East Queensland between Brisbane and the Gold Coast and one farm in Far North Queensland near Mossman, North of Cairns. (pictured right)
The season for farmed Black Tiger Prawns in Australia starts in Nth Queensland in November and moves south as the season progresses through to May – June. Gold Coast Marine Aquaculture's farm at Mossman is the most Northern prawn farm in Australia, warmer pond water coming out of winter means that it is typically the first Black Tiger Prawn farm in Australia to start harvesting in November and the farm with the largest sized prawns at Christmas.
This farm is an important supplier of fresh prawns for the Christmas market. Gold Coast Marine Aquaculture's farm on the the Gold Coast starts harvesting in late January, one of the most southern farms in Australia it is only 1-2 days delivery to markets in Brisbane, Sydney and Melbourne.
Strategically, there is no other prawn farming company in Australia has the geographical locations to supply fresh prawns of suitable grade throughout the season.
Gold Coast Farm, Gold Coast, South East Queensland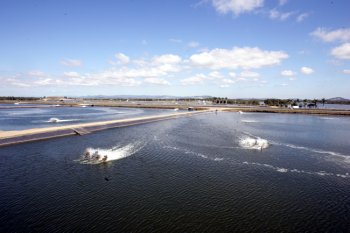 Season: Mid January to May
Freight options: Road-freight to Brisbane, Sydney and Melbourne
Process: Fresh whole cooked and raw, frozen whole cooked and raw
Competitive advantage: next day delivery to Brisbane and Sydney
Mossman Farm, Far North Queensland
Season: November to mid January
Freight options: Air-freight next day delivery to all capital cities, Road-freight to Brisbane and Sydney
Process: Fresh whole cooked prawns only
Competitive advantage: supplying large fresh prawns to the Christmas market